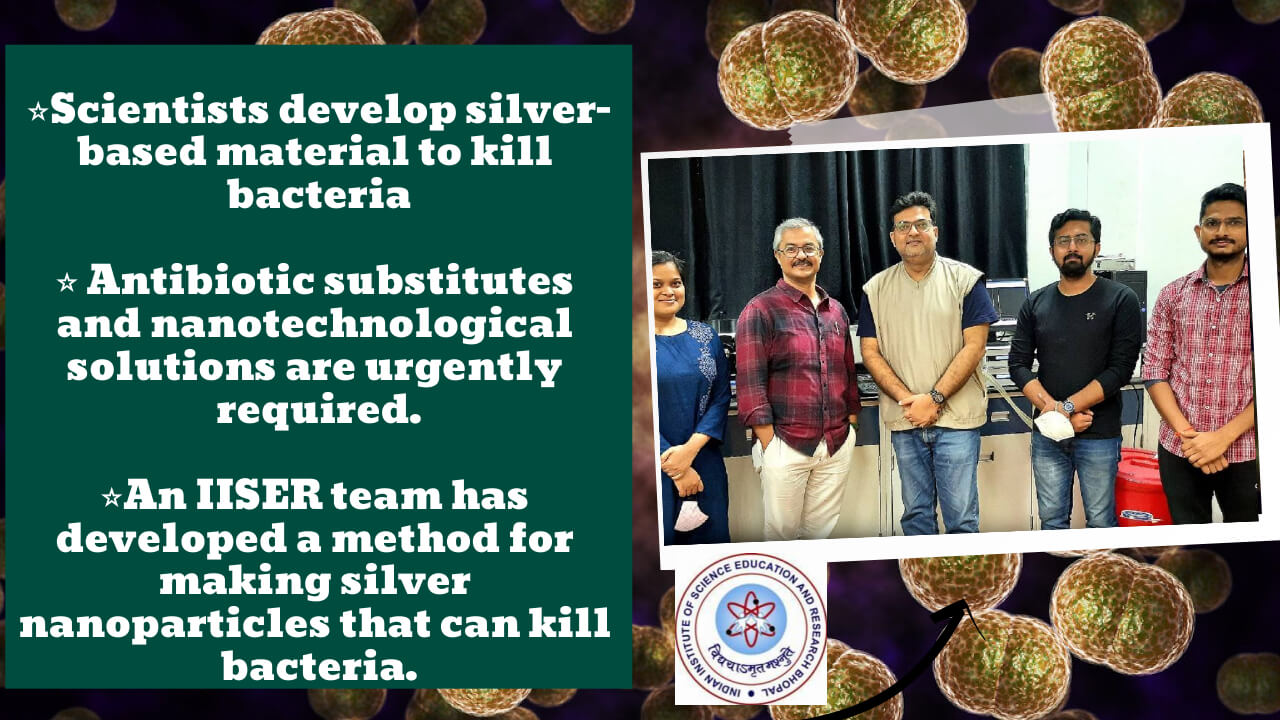 Researchers at the Indian Institute of Science Education and Research, Bhopal, have developed a procedure to produce silver nanomaterials. These nanomaterials can be used as antimicrobial agents. The results of this work have been published in the journal of the American Chemical Society.
Key Highlight:
Silver nanomaterials can be used as antimicrobial agents, according to researchers at the Indian Institute of Science Education and Research (IISER) in Bhopal.
Antibiotic resistance is one of the most serious health crises today, according to the WHO.
Antibiotics are widely used in humans, livestock, and agriculture in India, making it the world's "antimicrobial resistance capital."
Antibiotic substitutes and nanotechnological solutions are urgently required.
Indian Institute of Science Education and Research, Bhopal, has come up with a safe and simple way to make silver nanomaterials that can be used as antimicrobial agents.
ACS Applied Materials and Interfaces is an American Chemical Society journal. The results of the work have been written about in this magazine.
One of the biggest threats to human health today is that bacteria are becoming resistant to antibiotics, even though Covid isn't one of them. In India, which is known as the "antimicrobial resistance capital of the world," people, animals, and crops are using antibiotics all over the place. There is a huge need for antibiotic replacements, and nanotechnological solutions like those studied by the IISER, Bhopal, team are good places to start.
In nano-sized particles that are one hundred thousand times smaller than the width of one human hair, silver has good antimicrobial properties." Doctors have used silver to fight infections and promote healing since the beginning of time, says Saptarshi Mukherjee, a professor of chemistry at IISER Bhopal in the Indian Institute of Science in Bhopal.
Mukherjee said that silver nanomaterials are usually made with toxic precursors that often make other nasty things for the system.
In this case, the researchers used the amino acid tyrosine to make nanomaterials of silver with great antimicrobial properties. People who eat meat, dairy, nuts, and beans can get a lot of tyrosine from these foods.
Silver nitrate, which is the main component of "election ink," is treated with tyrosine in the presence of caustic soda by the researchers. This made the silver nitrate brighter. To make silver nanomaterials, Tyrosine worked as both a reducing agent and a capping agent. This is what they found when they looked at the product with a high-resolution microscope. They found two types of tiny silver structures: nanoclusters and nanoparticles. About four hours after putting them in, the nanoparticles killed the microbes, he said
This isn't the only thing they know about how nanoparticles kill microbes: They found that the nanoparticles make "singlet oxygen species" that make cells more stressed and break open and break down the cell membranes of the microbes, causing them to die.
In contrast to the nanoparticles made by the above process, the smaller nanoclusters can be used as bioimaging probes because they glow. As our product has two parts, it can be used for a wide range of things, from photophysical studies to applications in biological systems, said Mukherjee, on the practical implications of the research.