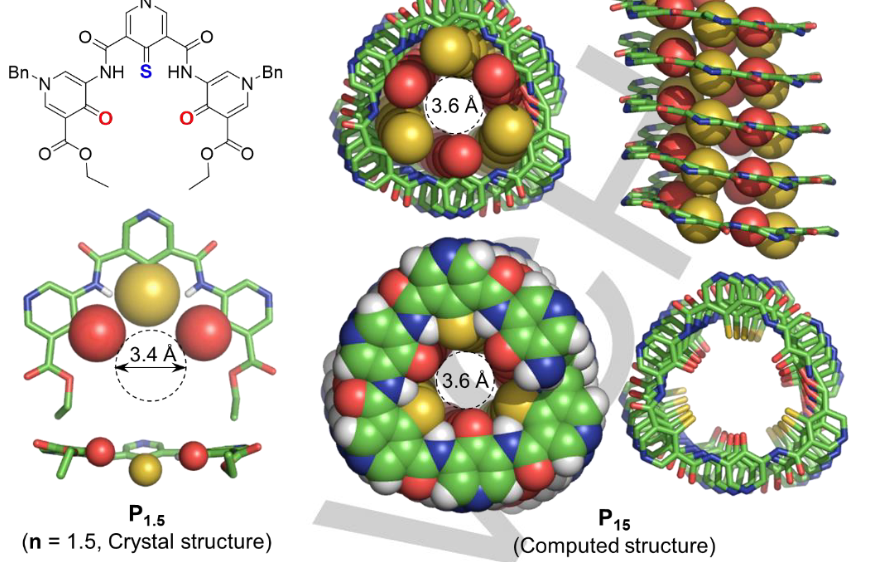 🔬 Researchers have crafted sulfur-containing nanotubes from aromatic foldamers, paving the way for artificial lithium channels with high selectivity! This breakthrough could revolutionize lithium mining and improve lithium therapy. 🚀 #Science #Nanotechnology
🔬 Researchers have developed sulfur-containing organic nanotubes from helically folded aromatic foldamers that can effectively transport Li+ ions across cell membranes with high selectivity, demonstrating potential for artificial lithium-transporting channels.
Facts
🔬 Unlike other ions (Na+, K+, Ca2+, Cl-, etc), Li+ ions lack specific channel proteins for cellular transport.
🔬 Natural Li+ transport occurs through sodium channels by competing with sodium ions.
🔬 Artificial lithium-transporting channels have been challenging to develop.
🔬 Sulfur-containing nanotubes derived from H-bonded aromatic foldamers enable selective Li+ transport.
🔬 The nanotubes show high transport selectivity factors of 14.9 and 18.4 over Na+ and K+ ions.
🔬 These nanotubes could revolutionize lithium mining technology from seawater or salt lakes.
🔬 Sulfur-decorated nanotubes demonstrate potential for effective cation transport within lipid bilayers.
The development of artificial lithium-transporting channels has been a significant challenge due to the lack of specific proteins for Li+ transport. In this study, researchers successfully created sulfur-containing nanotubes using helically folded aromatic foldamers. These nanotubes demonstrated high selectivity and efficiency in transporting Li+ ions across cell membranes. The nanotubes exhibited transport selectivity factors of 14.9 and 18.4 over Na+ and K+ ions, respectively, highlighting their potential for highly selective lithium transport. This development could have significant implications for lithium therapy, as well as transforming the technology for lithium mining from seawater or salt lakes. The unique structural features of these nanotubes could lead to advances in the field of cation transport within lipid bilayers.
Sulfur-Containing Foldamer-Based Artificial Lithium Channels
Jie Shen, Deepa R, Zhongyan Li, Hyeonji Oh, Harekrushna Behera, Himanshu Joshi, Manish Kumar, Aleksei Aksimentiev, Huaqiang Zeng
Nanotubes transport lithium.
Selective and efficient.
Revolutionary for lithium.
Foldamers enable cation transport.