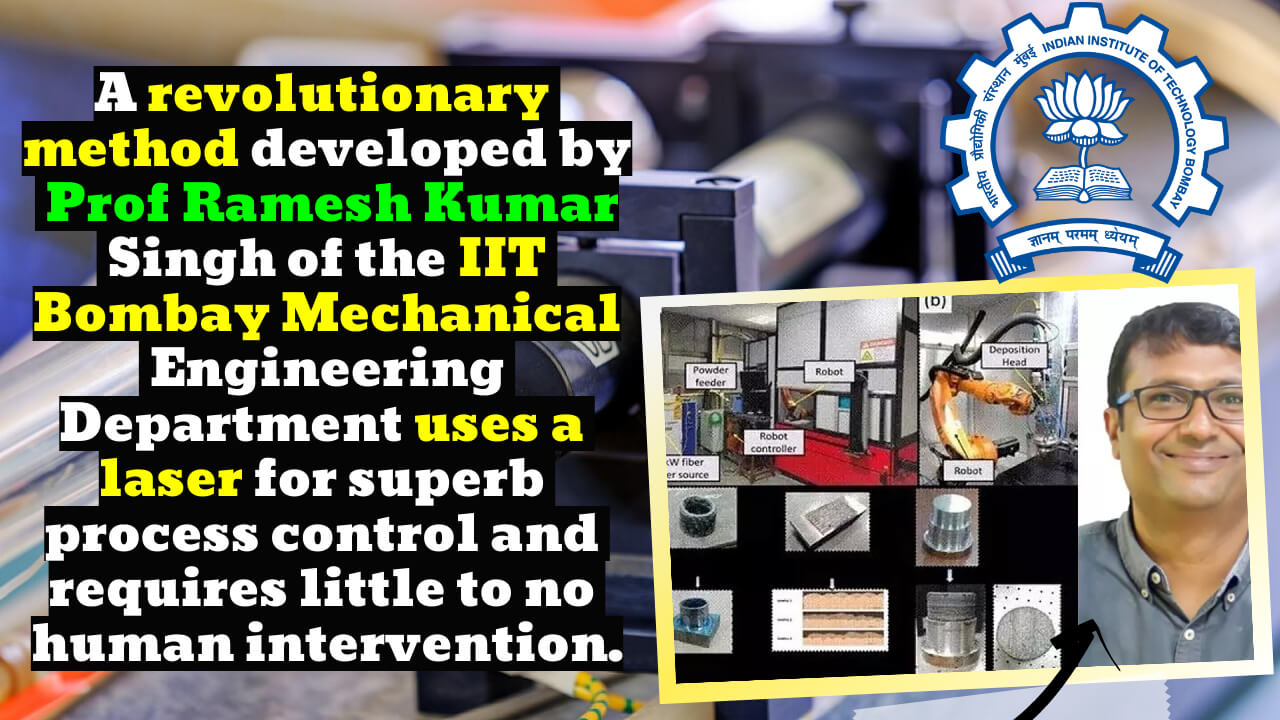 There is a new technology that can be used to fix and restore things worth a lot of money from an IIT professor. The robotic restoration system is designed to work independently for all important tasks. A laser is used to keep a close eye on the process, and it is completely self-sufficient with little to no human help.
Key Highlight:
IIT Bombay professor has created a completely autonomous technology for repairing and restoring high-value components such as moulds, turbine blades, and other aerospace components.
A revolutionary technique developed by Prof Ramesh Kumar Singh of the IIT Bombay Mechanical Engineering Department uses a laser for great process control and is entirely autonomous with minimal human intervention.
The technique will scan the damaged component autonomously for damage identification using a laser scanner, and algorithms will decide the deposition path.
The material will be deposited using laser-directed energy deposition (LDED), then finished and automatically inspected.
In the 7th level of Technology Readiness Level, the project's two systems—laser-directed energy deposition and flaw scanning—are being finalized.
In a big breakthrough, an IIT Bombay professor has come up with a way to fix and restore high-value parts like molds, turbine blades, and other aerospace parts that don't need much help from people. "It is hoped that this technology will take the restoration and repair industry to the next level, and it will help to start up a viable cutting-edge laser manufacturing ecosystem for Atmanirbhar Bharat."
People use welding and thermal spraying to fix things, but they aren't very accurate and don't always work. There are a lot of manual technologies out there, and the quality of a person's repair depends on how good they are at what they do. Prof. Ramesh Kumar Singh of the Mechanical Engineering Department at IIT Bombay has developed a new way to keep track of the process. It uses a laser to do this, and it's completely self-sufficient and doesn't need any help from people. There are no people in the robotic restoration system to do all of the important things on its own.
The government of India's funding helped make this new technology possible. The official statement said that it has been tested and proven to be safe and effective. To find out if something needs to be fixed, the technology will use a laser scanner to scan the part that needs to be fixed. Then, based on certain algorithms, the deposition path will be chosen. Following that, the laser-directed energy deposition (LDED) method will be used to put down the material, which will be finished and checked by an automated system.
Laser-directed energy deposition and defect scanning systems are coming together last. The project is now at the 7th stage of its Technology Readiness Level. Prof. Ramesh has teamed up with Bharat Forge, Aditya Birla Science and Technology Company, and Interface Design Associates to get his ideas into the real world. "The new technology is very important and a game-changer for the restoration and repair segment of the manufacturing industry, and it has a lot of room for growth in the world of manufacturing. This technology can be used to fix very valuable parts. The accuracy and precision that can be achieved through this technology is amazing and is a long way ahead of what is currently the best way to do things. "Prof. Ramesh is said to have said this.