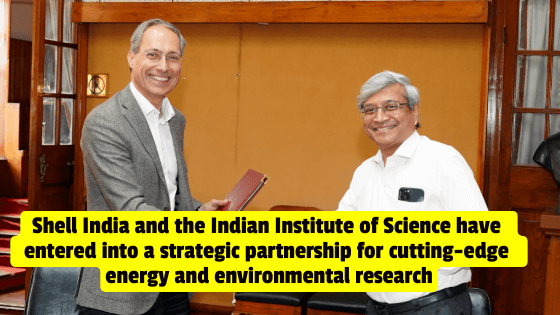 IISc scientists and Shell India will collaborate on research to help India become more efficient and cut greenhouse gas emissions. IISc researchers will work with their colleagues at the Indian Institute of Science and other researchers in India. The Indian Institute of Science and India will work together to help India find energy solutions that would enable the country to meet its energy needs.
Shell India and the Indian Institute of Science have entered into a strategic partnership.
Through this partnership, cutting-edge energy and environmental research will be developed.
In addition to reducing greenhouse gas emissions, the partnership will promote decarbonization.
Moreover, the collaboration will focus on developing solutions for India's energy transition needs.
A capacity-building program is also expected to be implemented.
The ICER has carried out energy-related research on both a fundamental and an applied level.
According to the Government of India's national missions, it was conceived in 2012 as part of the institute's post-centenary vision.
With collaborations with manufacturers, the ICER intends to expand its activities in several areas, including process and material development.
IISc and Shell India have entered into a research agreement to enhance energy efficiency and reduce greenhouse gas emissions. The research agreement, signed in Bengaluru on Thursday, will further the work done at the Interdisciplinary Centre for Energy Research (ICER) at IISc.
IISc, a premier research institute in India, has signed a research agreement to take the partnership to the next level regarding its participation in cutting-edge research and technology.
Shell smash a record with an $11.5-billion profit for the second quarter. She'll announce a $6.6-billion acquisition of the company from Actis.
IISc and the Shekhar India Research Institute promote joint research initiatives on green power and energy efficiency issues.
IISc director Prof Govindan Rangarajan met with chief Yuri Sebregts on Thursday to sign a five-year collaboration agreement on energy and environment.
It aims to reduce greenhouse gas emissions and promote decarbonization through innovative technologies such as low-cost fuels, electricity from wind turbines and carbon sinks, and water cooling using superconducting carbon dioxide.
IISc scientists will collaborate with fellow researchers, faculty, and students at the Indian Institute of Science.
Indian industries are taking special steps towards decarbonizing their operations and enabling everyone to have access for free to renewable energy via technology.
With global warming becoming a major concern, there is a need to find more efficient and sustainable fuels to decarbonize the economy and use renewable energy better.
Prof Rangarajan hailed the efforts of IISc and she'll India in tackling pressing energy challenges at the national and global level by working together on cutting-edge technology developments that will allow us to reduce the global carbon footprint significantly. The partnership aims at helping India develop energy solutions that would enable the country to meet its energy needs.
It will also help increase the capacity of universities in India by providing students with more chances to work in the industry while they study and will help to develop business plans for young researchers.
We are excited to partner with @Shell_India on R&D in energy & the environment, which will focus on reducing GHG emissions & promoting decarbonisation through low-carbon fuels, distributed electrification, carbon sinks, hydrogen generation, sCO2 and more! https://t.co/3qqpgzTZnr pic.twitter.com/Jc46VlMwdL

— IISc Bangalore (@iiscbangalore) September 18, 2022