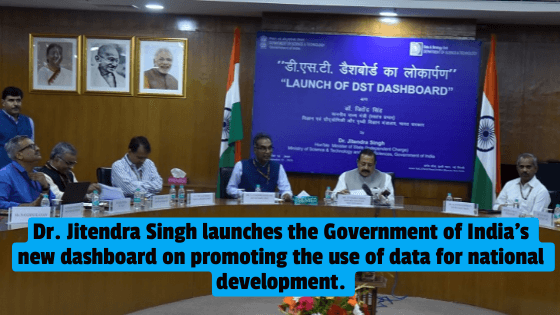 Dr. Jitendra Singh inaugurates the new Government dashboard enabling the use of data for development. DSU is a portal for the Ministry of Science and Technology to monitor and provide feedback about the progress of their schemes and projects. Data about the successful or unsuccessful outcomes of different government projects, schemes, initiatives and fellowships are available on a dashboard, which is available to the public daily.
Dr. Jitendra Singh launches the Government of India's new dashboard on promoting the use of data for national development.
DST provides a platform for monitoring and providing feedback on the progress of various projects and schemes implemented by the Ministry of Science and Technology.
Data on the success or failure of various government schemes, projects, initiatives and fellowships can be viewed in a dashboard that is accessible on a live basis and remediation measures can be decided if necessary.
Ministers/Departments were given the direction to establish a DSU to manage the development and implementation of their data plans or strategies.
DSU has an advisory council comprising university data experts and public and commercial institutions.
DSU offers data science students internship opportunities to help them develop their careers.
Dr. Jitendra Singh launches the Government of India Science & Technology Dashboard. He said the Dashboard is a good start to improving DST's statistical and data management capabilities.
Dr. Jitendra Singh, Union Minister for Science and Technology, Earth Science, Public Grievance, Pensions and Atomic Energy, said the Dashboard enables the Department to monitor and provide the necessary feedback for the Department to work as it should.
Minister Jitendra Singh said, with the help of Dashboard, it will be easy for the states to know the status of their schemes or programs and take appropriate measures. Dr. Jitendra Singh explained that impact analyses of schemes, scholarships and grants given to the people from Scheduled Tribes, OBCs and General Castes are carried out to suggest reforms to the concerned state government.
Dr. Jitendra Singh, Union Minister for Science and Technology, says, Developing a common dashboard for the Ministry of Science and Technology will help government agencies manage the data and plans efficiently. Over Rs 20,000 crores have been disbursed by DST to 2,768 agencies in 35 States/UTs in the last five years, with every detail available on the Dashboard.
Dr. Jitendra Singh added that the Department of Science & Technology had established a Dashboard to enable it to develop capabilities in data analysis and statistics. It is a directive from the National Institute of Technical and Industrial Research (NITAR) to build and hone the analytical capability of the Department by the year 2021. Dr. Singh said that the DST also set up a data management cell with the same objectives in January 2019.
Dr. Jitendra Singh hailed the work of the Data & Strategy Unit (DSU) in enabling DST to develop and share data that supports strategic decisions. Many programs are now facing serious issues because of their limited outreach. Many programs are undergoing mid-course corrections due to data analysis done on the dashboards.
Because of the dashboards, DST can now track and control the decisions that are made, the projects that are financed and the fellowships that are given to students easily and in a way that is easy to understand.
Shri S. DST has appointed a Data & Strategy Unit (DIU), in which experts from different sectors like academia support, government and commercial institutes. DSU offers an opportunity for undergraduate students to learn data science by enabling them to do internships.
DSTs Data & Strategy Unit is involved in conducting research and arranging workshops and training programs to make people aware of the importance of data. DSU also invites eminent data scientists and data champions for lectures and interactions with the scientists, data officers and other officials of DST. A poster is erected every week on different subjects of DSR and S&T, in particular, with citations to relevant dashboards. This is done to inform scientists and other officials about the different programs and facilitate their interaction.
#TheHindu @IndiaDST has set up a dashboard to monitor utilisation of funds & obtain feedback to ensure effective implementation of #projects , #Schemes , #scholarships & #fellowships.@DrJitendraSingh @srivaric @DSU_DST https://t.co/S30WzEBaYW pic.twitter.com/Zlgxq8si2R

— DSTIndia (@IndiaDST) September 16, 2022
Mathur inaugurates 3-day National Meet on RTI Act Several delegations meet LG at Doda BJP transformed country's political landscape by taking every segment along: Rana Secy Mining reviews e-Marketplace, DMFT usage across all districts Institution of Engineers pays tribute to Sir M Visvesvaraya on 55th Engineers' Day HC grants the last opportunity to DSE-K for implementing order CEO visits Samba, overviews Spl Summary Revision of Electoral Rolls IGR reviews functioning of Sub-Registrar offices in Jammu AAP asks JK Govt to learn power sector reformative efforts from Delhi, Pb Govt 2 drug peddlers detained under PSA Power shutdown.
The dashboard gives complete insight of @IndiaDST funding, from spatial distribution of funds to the type of institutions & agencies being funded. It also leads to a kind of active disclosure of agencies funded by DST.@DrJitendraSingh @srivaric @akhileshiitkgp @DSU_DST pic.twitter.com/r0nxYTMaiU

— DSTIndia (@IndiaDST) September 15, 2022