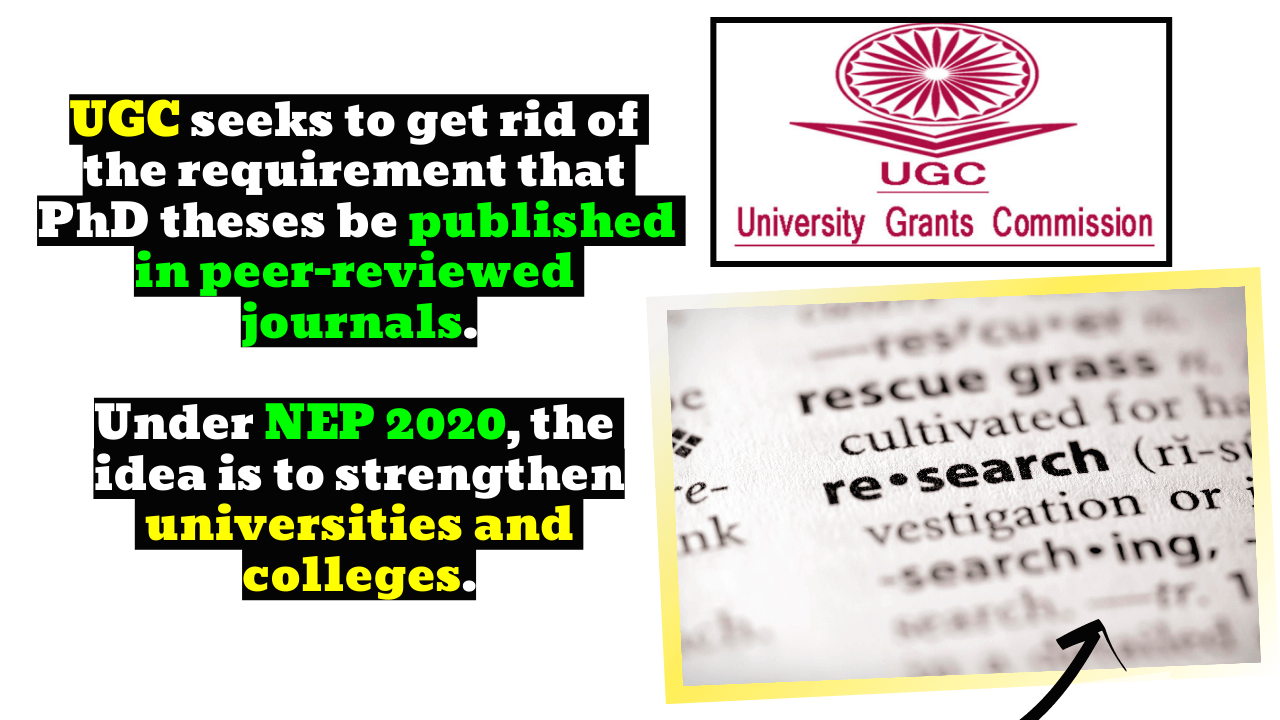 The University Grants Commission (UGC) will no longer require Ph.D. theses to be published in peer-reviewed publications. The commission will let colleges make their policies. Ph.D. students published in predatory publications. March's draft sought feedback from stakeholders. UGC is finalizing ideas and regulations.
Academics are worried about the proposal. UGC plans to eliminate university and college affiliations. MK Sridhar of the National Education Policy (2020) draft committee said this would impair researchers' work.
Key Highlight:
The University Grants Commission (UGC) will no longer require Ph.D. thesis authors to publish in peer-reviewed journals.
The commission will let colleges make their own rules.
The draft UGC (Minimum Standards and Procedure for Award of Ph.D. Degree) Regulations, 2022 proposed several changes, including making undergraduates with a 7.5 CGPA eligible for Ph.D. admissions.
Academics criticized UGC's proposal.
Under NEP 2020, universities and colleges will be strengthened.
Officials said that the University Grants Commission (UGC) wants to eliminate the requirement that Ph.D. theses have to be published in journals that peers review. Higher education institutions will be able to develop their own rules and regulations because the commission will let them. This is because many Ph.D. students were publishing their articles in what is called "predatory journals." These journals publish articles for a fee without doing the kind of research that academic journals are supposed to do.
The UGC (Minimum Standards and Procedures for Award of Ph.D. Degree) Regulations, 2016, are being changed by the commission. Under the rules from 2016, Ph.D. candidates had to publish at least one research paper in a UGC-refereed or peer-reviewed journal before sending in their dissertation or thesis for grading.
In the new rules coming out in 2022, the word "mandatory" will be changed to "strongly recommended." The universities will judge the quality of Ph.D. degrees, and they are free to make their own rules in this area.
"Because of this rule, there is a "journal business" in India. There is no way to improve the quality of research by making something a must. So, UGC is now thinking about getting rid of this requirement. However, UGC chairperson M Jagadesh Kumar told HT that research scholars should still publish the results of their Ph.D. research in peer-reviewed journals, apply for patents, and give talks at conferences.
The UGC writes to the Odisha government about how it hires teachers and says that it "violates SC stay."
Today, PGIMER's standing academic committee will talk about putting interviews back into the entrance tests.
AU will soon have a language lab with the latest technology.
Response to the suggestions portal was lukewarm: DGSE promises to update schools to get the attention of school leaders.
The UGC tells Odisha to stop hiring people for universities for three months.
Setback for INLD's attempt to get back into politics
LU's Institute of Women's Studies will offer three new classes.
United Group of Institutions, using new ways to shape students' futures
Kumar said that the commission might now ask the universities to make their own rules for publishing in research journals. "Higher education institutions might be able to choose whether or not to keep this as a requirement, as long as the quality of research is kept up."
The draft UGC (Minimum Standards and Procedure for Award of Ph.D. Degree) Regulations, 2022 suggested several changes, such as allowing undergraduates with a minimum CGPA (Cumulative Grade Point Average) of 7.5 who have completed a four-year program to apply for Ph.D. admissions. In March, stakeholders were asked for feedback on the draft made public. UGC is now putting together all suggestions and finishing up the rules.
Members of the academic community were worried about UGC's plan.
Moushumi Basu, an associate professor at Jawaharlal Nehru University (JNU), said that the commission shouldn't eliminate the requirement to publish but instead add more checks and balances.
"First of all, the commission ruled that postgraduate and graduate students can go straight into Ph.D. programs. It is also no longer necessary for the research paper to be published before the thesis is turned in. This will hurt the quality of research in the long run. "Letting the universities decide won't work because no university wants to be responsible for this," she said.
A Delhi University (DU) professor named Rajesh Jha said that the fact that Ph.D. requirements are always changing hurts the overall quality of research. "When we were in school, we didn't have to publish our research papers in journals our peers reviewed. The UGC made this change to make research better. But it didn't give enough money to keep up with what was expected (because of the late release of scholarships and fellowships). It is now planning to get rid of this rule once more. "These constant changes will confuse the researchers and hurt the quality of their work in the long run," he said.
MK Sridhar, who was on the draft committee for the National Education Policy (2020), didn't agree.
"For all these years, almost everything was controlled by a few people, and the UGC told everyone what to do. But now, the goal of the NEP 2020 is to make universities and colleges stronger. If you don't help them get stronger, they won't be able to get accreditation and then autonomy. The NEP 2020 system says that the affiliation system has to go, but that can only happen if the institutions get stronger. The idea is to give the decision to the institutions. Over time, every university will start to take responsibility. This is what the NEP 2020 is trying to get universities to do.
"Second, this kind of unified approach across the country has made many predatory journals more likely to exist. This move will also help stop that," he said.
Anil Dattatraya Sahasrabudhe, the head of the All India Council for Technical Education (AICTE), said that the move would help improve the quality of research. "When something has to be done, the quality of the work goes down. People often put their research theses in journals that are easy to get into. "That's why, over time, the quality of research started to go down," he said.