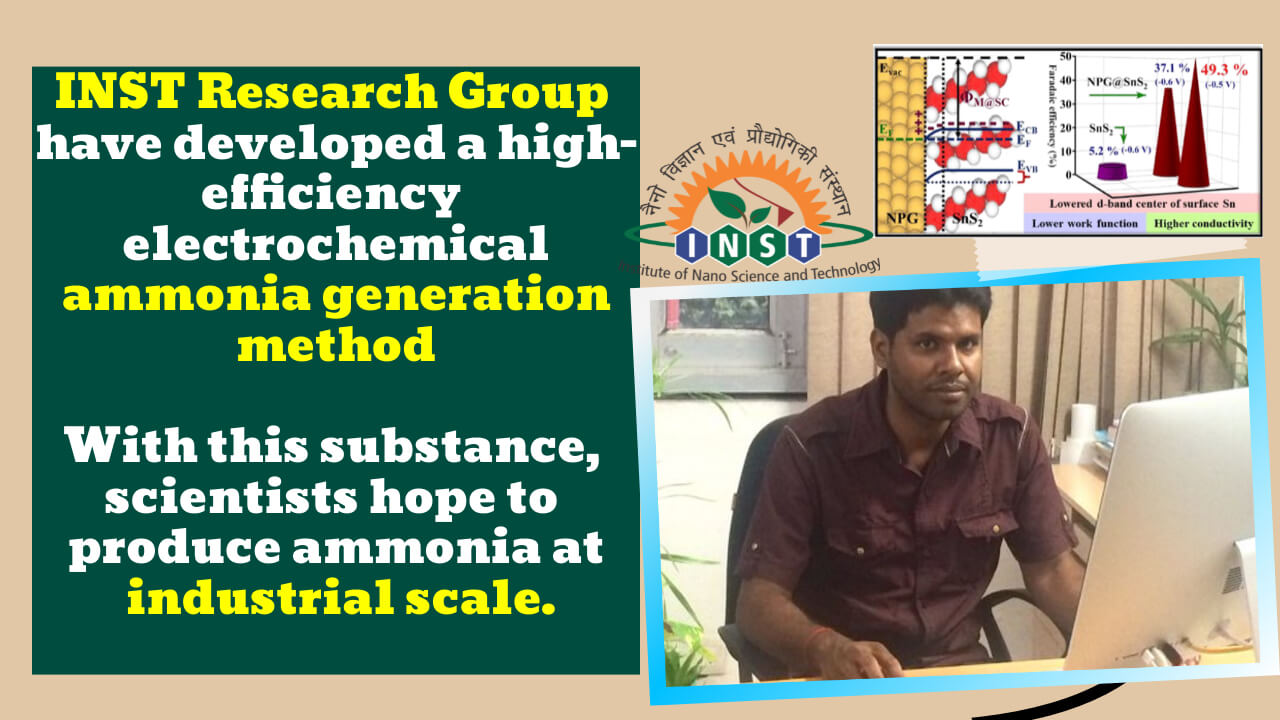 Indian scientists have devised an effective electrochemical ammonia production process. The process may be beneficial in commercial chemical preparation. It is a promising carbon-free replacement to the century-old Haber-Bosch process. NPG@SnS2 could improve the efficiency of electrochemical nitrogen reduction reactions by reducing the competitive reaction, hydrogen evolution reaction (HER).
Key Highlight:
Indian researchers have devised a high-efficiency electrochemical ammonia production process.
The traditional Haber-Bosch ammonia synthesis process uses a lot of energy and high temperatures.
On the other hand, electrochemical ammonia production can be done at standard temperature and pressure.
It is a promising alternative as a carbon-free alternative to the century-old Haber-Bosch process.
High Faradaic efficiency for electrochemical nitrogen reduction reaction may be achieved by inhibiting its competitor, hydrogen evolution reaction, using NPG@SnS2 (HER)
With this substance, scientists hope to produce ammonia at an industrial scale.
This material can be worked on if the Faradaic efficiency for ammonia production is taken into account
Indian scientists have found a way to make ammonia by electrochemical means that could be very useful for making the chemical in industry.
Using the Haber-Bosch process to make ammonia takes a lot of energy in high-temperature and high-pressure conditions. Because the process also releases carbon dioxide, which is a type of gas that is bad for the climate.
This is not the case, though. Electrochemical ammonia synthesis is entirely normal and can be done at room temperature and under the same pressure in the air. As a bonus, it doesn't use carbon, so it could be a suitable replacement for the Haber-Bosch process, which has been around for a hundred years. The main problem is hydrogen evolution if you want to make ammonia with an electrochemical process. This happens at the same voltage window as a nitrogen reduction reaction (NRR), which means that the ammonia you make has a low yield and Faradaic efficiency (F.E.).
INST scientists, led by Dr. Ramendra Sundar Dey, used a new strategy called "interface engineering" to make nanoporous gold (NPG) and Tin sulfide (SnS2) work together. They looked at how this changed the electronic band structure of the hydrogen evolution reaction (HER) with a high Faradaic efficiency of 49.3% for making ammonia. In terms of NRR, this is the best out of all the materials made from SnS2 and materials that use interface engineering to make them.
Research funded by DST SERB and INSPIRE is trying to make a semiconductor with a metal interface have better electronic properties. This will not only help to stop HER, but it will also make N2 adsorb at the active site and help Faradaic efficiency be very high.
Using this method could lead to the development of a catalyst that would work well as a HER suppressant and could compete with other high-performance catalysts to achieve a high Faradaic efficiency for NRR, said Dr. Ramendra Sundar Dey, who led the study.
For any electrocatalytic process, the conductivity and d-band center of the semiconductor can be improved by connecting it to a metal. This is what the team says.
To start, the glass substrates were cleaned with IPA, water, and acetone to get rid of any airborne impurities. Then, the NPG@SnS2 was made. To get nanoporous gold (NPG) from the gold-silver alloy, acid was used to etch it. Then, the gold-silver alloy was transferred to glass substrates. 100 nm thick Sn was then sulphurized in an Ar atmosphere to make the semiconducting layer of SnS2 over NPG and a metal–semiconductor interface at their junction, which is what this layer was made of.
There has been a lot of progress made in this work, and the team at INST thinks that it will be very important to figure out how to make a good metal-semiconductor heterojunction for an electrocatalytic process. The interfacial engineering strategy used in this work could be used to make electrochemical nitrogen reduction more efficient by cutting down on its competitor, the hydrogen evolution reaction, which could make the Faradaic efficiency even better (HER).
Scientists are still trying to make ammonia on a large scale with this material, but they haven't yet. When Faradaic efficiency for making ammonia is taken into account, this material can be used for making ammonia in an industrial setting without a doubt.
Publication link: doi.org/10.1021/acsnano.1c08652
It feels really exciting to share my recent work @acsnano with DOI:10.1021/acsnano.1c08652, where a metal-semiconductor junction has been elaborately explored for their altered electronic band positions, favoring electrochemical nitrogen reduction with 49.3% Faradaic efficiency. pic.twitter.com/X6JFkJwdPz

— Ashmita Biswas (@AshmitaBiswas9) December 14, 2021