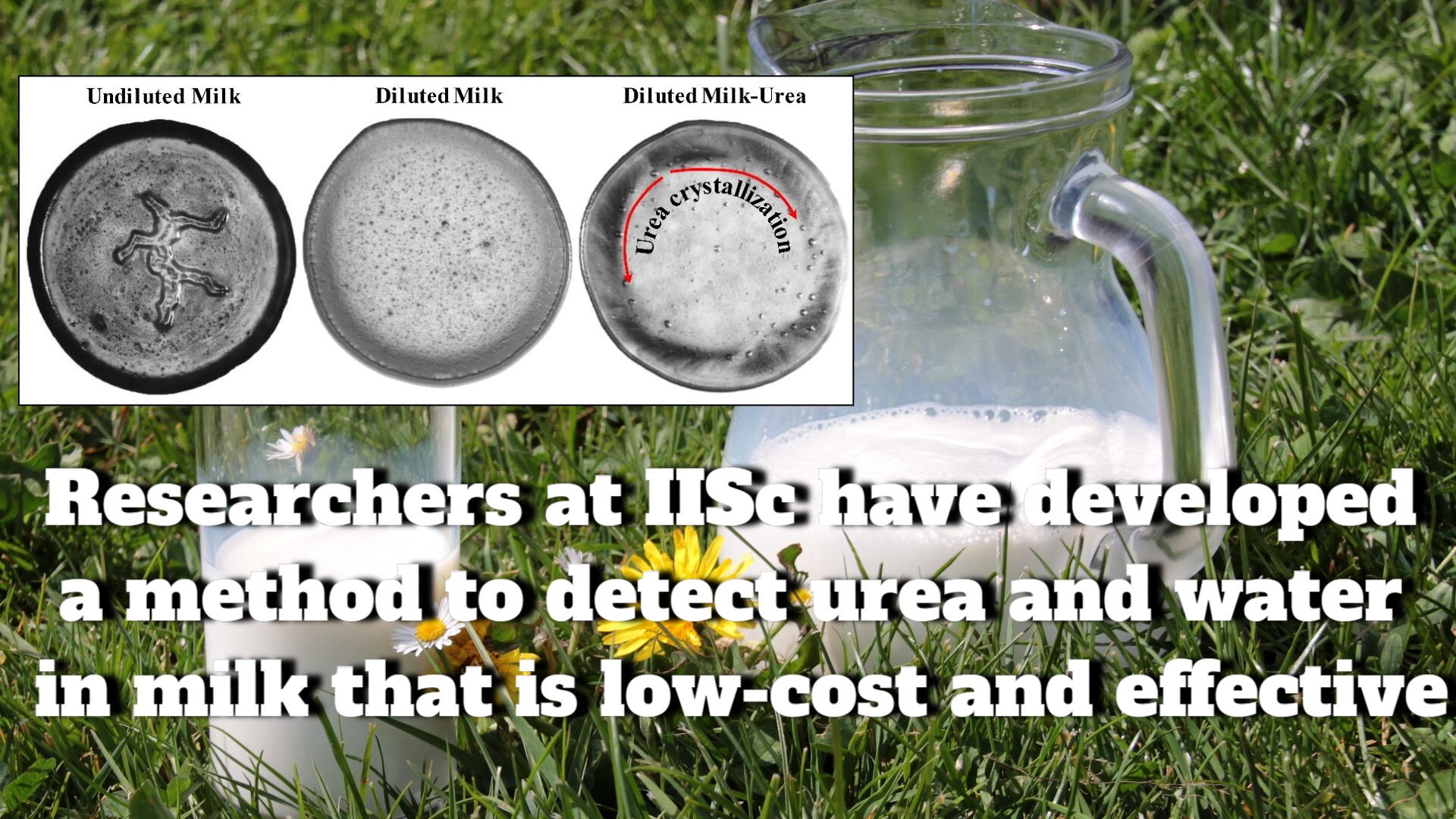 Non-toxic nanomaterial security ink has been produced by Indian scientists that emit light on its own. Counterfeiters commonly utilize covert tags made of luminescent ink. Because fluorides are less stable and poisonous, most security inks on the market now use them. Luminescent security ink produced by the researcher utilizes nanomaterials doped with Gd1-xBixPO4 and doped with lanthanide ions (Ln3+). The ink's downshifting luminescence color is extremely dependent on the excitation wavelength, making the covert tag challenging to read.
Key Highlight:
Milk is routinely tainted with chemicals and water by dishonest suppliers, endangering the health of consumers. Nevertheless, the evaporation pattern of milk can be used to determine the quality of the liquid.
Indian Institute of Science (IISc) Bengaluru researchers have developed a "low-cost and effective method" for detecting the presence of urea and water in milk by analyzing deposition patterns after evaporation. According to ACS Omega, their findings were peer-reviewed.
When a liquid mixture like milk completely evaporates, the volatile components dissipate and the solids or non-volatile components arrange themselves in distinct patterns, which the researchers studied to determine the presence of adulterants.
"The evaporative patterns of milk with and without water or urea were drastically different. The evaporative pattern in unadulterated milk was an irregular blob in the center. A press release from IISc stated that "water was found to cause distortion or complete loss of this distinctive pattern, depending on how much was added." A press release from IISc stated this.
The use of urea removes all traces of the original pattern. According to the study due to its nonvolatility, it does not evaporate but rather crystallizes from the milk drop's interior to its periphery.
A team at IISc developed this technique to detect water concentrations of up to 30% and urea concentrations of up to 0.4% in diluted milk. In the absence of equipment, the method, according to the researchers, can serve as a substitute.
You can do it anywhere. Researcher Virkeshwar Kumar says the method does not necessitate the use of a laboratory or any other special processes, and it can be easily adapted for use even in remote and rural areas. He created the method with the assistance of IISc assistant professor Susmita Dash, who works in the department of mechanical engineering.
To test for adulterants in other beverages and products, the researchers plan on using this technique. According to Susmita Dash in the press release, "the pattern you get is highly sensitive to what is added to it. The method may be useful for detecting impurities in volatile liquids, according to the researcher. Using this method for products like honey, which is frequently adulterated, will be interesting.
Increasing the horizons
Standardizing the patterns for all adulterants and their combination allows them to be fed into image analysis software, which can then compare a photo of the sample"s evaporative pattern with other standard patterns to accurately detect the adulterants present.
As Susmita Dash explained, "the next step is to test for a variety of other adulterants, such as oil and detergents that form an emulsion that resembles milk".
Researchers from @iiscbangalore have developed a low-cost and effective method to detect adulterants in milk, by analysing deposition patterns after evaporation; Used it to test for urea and water but say it can extended to other adulterants.

Story: https://t.co/IJReb3yaRn pic.twitter.com/PPOAkzBy7T

— Chethan Kumar (@Chethan_Dash) October 27, 2021