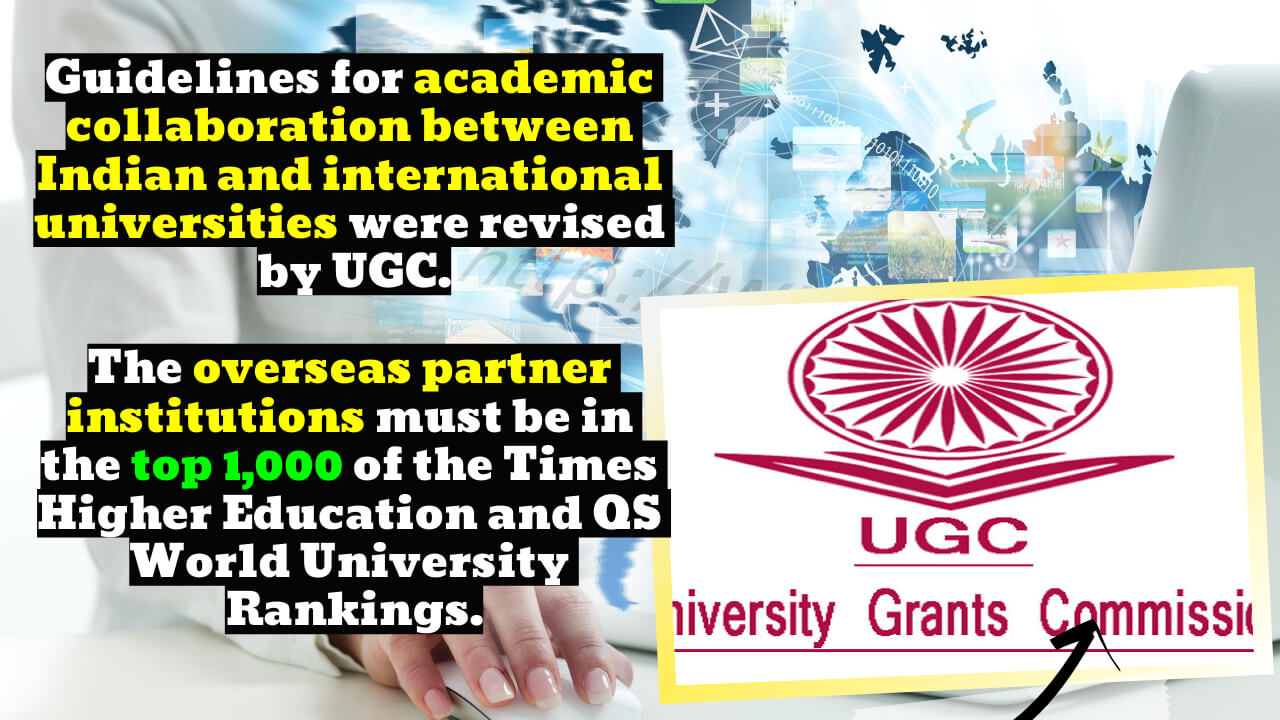 The changes also limit the regulator's involvement in facilitating such partnerships. Universities in India that fulfill a basic academic quality will not need UGC approval.
Students must complete at least 30% of course credit abroad for dual degrees. Credits acquired at international institutions will be applied to an Indian institution's degree/diploma. Indian students must finish over 30% of course credit at a foreign university.
The changes will allow more institutes to provide professional engineering, medicine, and law programs. AICTE, National Medical Commission, and Bar Council permission will still be required.
Key Highlight:
The University Grants Commission (UGC) approved important revisions to academic partnership guidelines on Tuesday, including a provision for "dual degree programs" – both Indian and international schools will award separate and simultaneous degrees for a course of the same discipline and level.
The participating institutions design the curriculum in a combined degree program, and the Indian university awards the degree.
Indian students must complete over 30% of their course credit in a foreign university.
Times Higher Education and QS World University Rankings require international partners to be among the top 1,000 globally.
The adjustments accepted Tuesday pushed it into the worldwide top 1000.
The University Grants Commission (UGC) changed the rules for academic collaborations between Indian and foreign universities on Tuesday, including a provision for "dual degree programs." This means that both the Indian and foreign institutions will give separate and simultaneous degrees for a course of the same discipline and at the same level.
The new rules will also limit regulators' supervisory roles in these collaborations. Indian universities that meet a certain level of academic quality will not need permission from the UGC to offer these types of programs.
M Jagadesh Kumar, the head of the UGC, said the collaborating institutions would be able to offer three kinds of programs: twinning, joint degrees, and dual degrees. He said that people didn't want to do the first two programs under the old rules. Sources said this was because of too many rules.
To take these programs, students will have to go abroad and earn credits, but they won't have to apply for admission on their own while they do so. People who take courses online and in the open and distance learning mode will not have to follow the new rules.
At least 30% of the credit for a dual degree must come from a school outside the United States. The degrees given by both Indian and foreign universities will show how many credits they earned.
The class will have to be in the same field and at the same level. When a student is in a BA History program at an Indian university, she can take part in her class at a different school. At the end of the course, the student will be given two degrees, one from an Indian institution and one from a different one.
As the UGC says, this should not be thought of as two separate degree programs at two separate levels in different fields of study. This means you can't get a BA in English and a BSc in Physics or a BSc in Math and an MSc in Biology under this plan.
n An Indian university will award the student's diploma or degree even though the student is studying part of the program there and part of it at a university in another country. This is called "twinning." As part of an exchange program, students will be required to complete up to 30% of their course credits at a different school. The same will be true for international students who want to take a similar course. In this case, credits earned at a foreign school will be counted toward the degree or diploma that the Indian school will give.
In a joint degree program, the curriculum is made by the two institutions that work together, and the Indian university gives the degree. On the other hand, the collaborating foreign university will give you a certificate with the logos of both institutions when you finish the course. A memorandum of understanding (MoU) will need to be signed by both partner institutions if they want to work together on course content. Students from India will have to do more than 30% of their coursework at a foreign school.
A new set of rules called University Grants Commission (Academic Collaboration between Indian and Foreign Higher Education Institutions to offer Joint Degree, Dual-degree and Twinning Programs, 2022), which Kumar said will be released soon, is said.
After a long review process, the UGC had to be "satisfied" with a partnership between an Indian and a foreign university. This ranged from looking at MoUs between different institutions to writing letters of approval or rejection for projects.
There is no longer a need to get permission from the UGC for an Indian partner institution to be accredited by the National Assessment and Accreditation Council (NAAC) with a score of 3.01 on a 4-point scale or to be ranked in the top 100 universities in the National Institutional Ranking Framework (NIRF). Foreign universities must be in the top 1,000 of both the Times Higher Education and QS World University Rankings to work with us.
This isn't true for professional programs in fields like engineering, medicine, or law, which still need to be approved by statutory bodies like the AICTE or the Bar Council of India to run.
UGC made the draft regulations public a year ago in February 2021, but they were not ready yet. Later, it had set up a committee to make the rules even better.
In the draft changes, foreign partner institutions had to be in the top 500 of the world. This now ranks in the top 1,000 in the world. On Tuesday, the amendments were approved. Kumar said, "The increased bandwidth is only to allow more institutions to work together and give students more options," when he was asked about it.
The number of students in Indian higher education institutions now stands at about 4 million, but this number will grow over time. We think that the regulations will help our higher education become more international, and it will also be a great chance for our Indian students to get a multidisciplinary education that will help them get a job in the world.