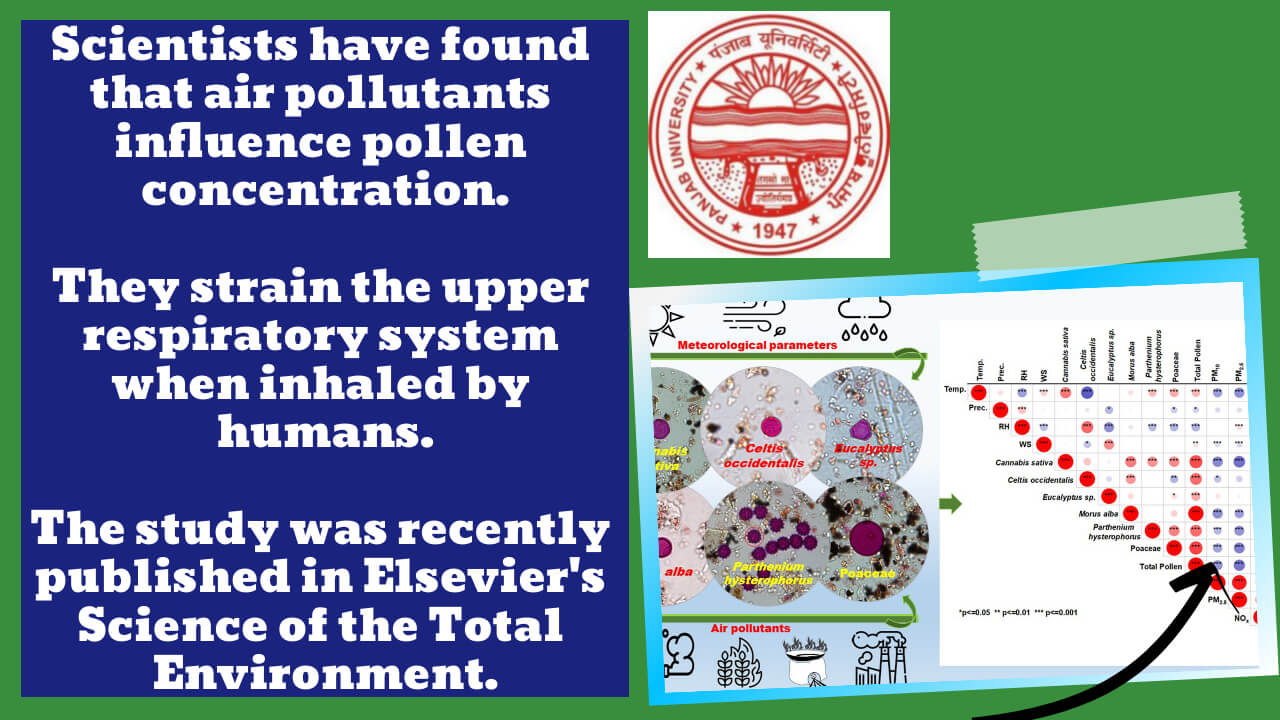 Pollens float in the air and are inhaled. These irritate the upper respiratory system when inhaled by humans. Upper respiratory and naso-bronchial allergies cause asthma, rhinitis, and bronchial irritation.
Each pollen type studied responded differently in response to weather and air pollutants. There were distinct peaks of pollen in low humidity and low precipitation conditions. In October and November, this area is particularly polluted.
Key Highlight:
New research shows that allergic diseases in the city are increasing due to airborne pollen.
Regarding pollen, particulate matter (PM) and nitrogen oxide (NOx) were studied.
In favorable weather conditions, such as moderate temperature, low humidity, and low precipitation, distinct peaks of airborne pollen were seen.
Flowering, inflorescence, maturation, pollen release, and dispersal are all influenced by moderate temperature.
In the Indo-Gangetic Plain, the current study's findings may help reduce the burden of pollinosis by better understanding complex interactions between airborne pollen, pollutants, and climate variables.
Scientists have found that pollution in the air affects pollen concentration, and different types of pollen react differently to different types of weather.
Pollen stays in the air and is part of the air we breathe. It puts a lot of strain on the upper respiratory system if people inhale them, though. Some people have asthma, rhinitis, and bronchial irritation because of them.
The type of pollen that floats in the air changes depending on where you live because of different weather or other factors. Pollen floats in the air is a significant factor in people getting allergies in cities. They could interact with each other and make their adverse effects on people's health worse. Pollen, climate variables, and air pollutants all live together in nature.
This is why Prof. Ravindra Khaiwal, from the Post Graduate Institute of Medical Education and Research (PGIMER), Chandigarh, and Dr. Suman Mor, from the Department of Environmental Studies, looked into the effect of weather and air pollution on the airborne pollen in the city Chandigarh. The group looked at temperature, rainfall, relative humidity, wind speed and direction, and air pollutants like particulate matter and nitrogen oxide. They also looked at how the airborne pollen was affected by these things.
The study was funded by the Department of Science and Technology (DST), part of the Indian government. It is one of the first studies in India to look at how air pollutants and weather conditions affect airborne pollen. The study has just been written up about in Science of the Total Environment, a journal that Elsevier owns.
The study says that each type of pollen had a different reaction to the weather and other air pollutants. In the spring and fall, most pollen types were found. Different peaks of airborne pollen were seen when there was a lot of good weather, like a reasonable temperature, low humidity, and no rain. If the temperature isn't too hot or too cold, it impacts things like flowering and pollination. However, pollen grains were removed from the air when there was a lot of rain or a lot of water in the air.
According to the study, there was a complicated and hard-to-understand relationship between airborne pollen and air pollutants. Long-term data sets will be used to find out the relationship's trends.
Prof. Ravindra Khaiwal said that when it comes to the future climate, it is likely that the urban environment will have a significant impact on plant biology and phenology.
Because of this, the study's findings are helpful because they suggest that air pollutants can affect pollen concentration. This can be looked into more as the data set grows.
There are a lot of complicated interactions between airborne pollen, air pollutants, and climate variables. This study could help us better understand how these things work together. This could help us figure out how to make the Indo-Gangetic Plain region less polluted. This area is known as a place where the air is terrible during October and November.