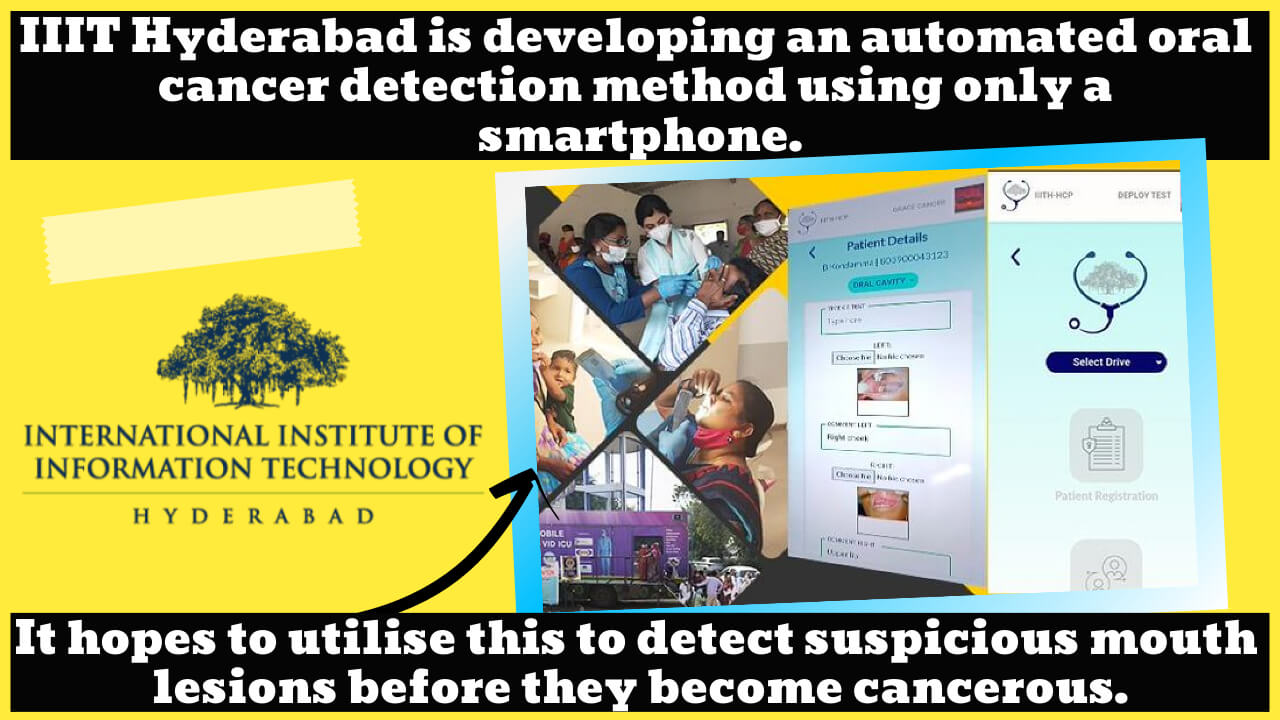 An AI programme could classify photos of the oral cavity captured by cheap phone cameras as cancerous or benign. Grace Cancer Foundation and BioCon Foundation are collaborating on the project. It intends to use this to detect aberrant mouth lesions before severe cancer stages.
Key Highlight:
IIIT-Hyderabad is working on an automated approach that requires just a smartphone as an early oral cancer screening tool.
It seeks to use this to highlight aberrant oral lesions before they proceed into severe stages of cancer.
The project is a collaborative effort with Grace Cancer Foundation and BioCon Foundation, which arose when the Grace Foundation noted that most patients were diagnosed at an advanced stage during its rural cancer screening camps.
The Foundation then approached IIIT-Hyderabad, following which the two brainstormed to arrive at a strategy where an AI program could flag oral cavity photographs.
The International Institute of Information Technology Hyderabad is working on an automated solution that only needs a smartphone to screen for oral cancer at an early stage. It wants to use this to tell people when something is wrong with their mouths before they worsen and become cancerous.
The project is a collaboration between the Grace Cancer Foundation and the BioCon Foundation, which came about after the Grace Foundation noticed that most people who went to rural cancer screening camps were diagnosed at a late stage. Foundation CEO and Director Dr. Chinnababu Sunkavalli says that its efforts to find and screen for cancers early through its mobile camps were hampered by the infrequent availability of highly skilled medical professionals like oncologists who can look inside the mouth and interpret x-ray results right away.
Afterward, the Foundation contacted IIIT-Hyderabad. Then, the two worked together to find an AI algorithm to flag images of the oral cavity, taken with simple phones, as either malignant or benign.
The iHub-Data initiative at IIIT-H is putting together big datasets, and one of its first projects is to use images to screen for and diagnose cancer in the early stages. "A project like this needed money," says Dr. Vinod, who is in charge of the Cancer initiative at the iHub-Data initiative.
IIIT-H blogger Sarita Chebbi says that the first phase of the project, which involved collecting data by the Grace Foundation, was made easier with the help of Product Labs, which is the market-relevant engineering arm of IIITH's Technology Transfer Office. The app was made with the help of Product Labs.
Tests have been done on the app, and it will be used for the first time to screen for oral cancer. Dr. Vinod says that in addition to taking pictures of oral cavities, they can also keep information about the patient and any follow-up reports that come with the picture.
As a result of BioCon Foundation's similar project, the IIITH team has now teamed up with them as well.
A doctor at iHub-Data says that "Apart from the photos of the mouth, our model will also take into account the person's family and medical history, as well as their vitals and blood tests."