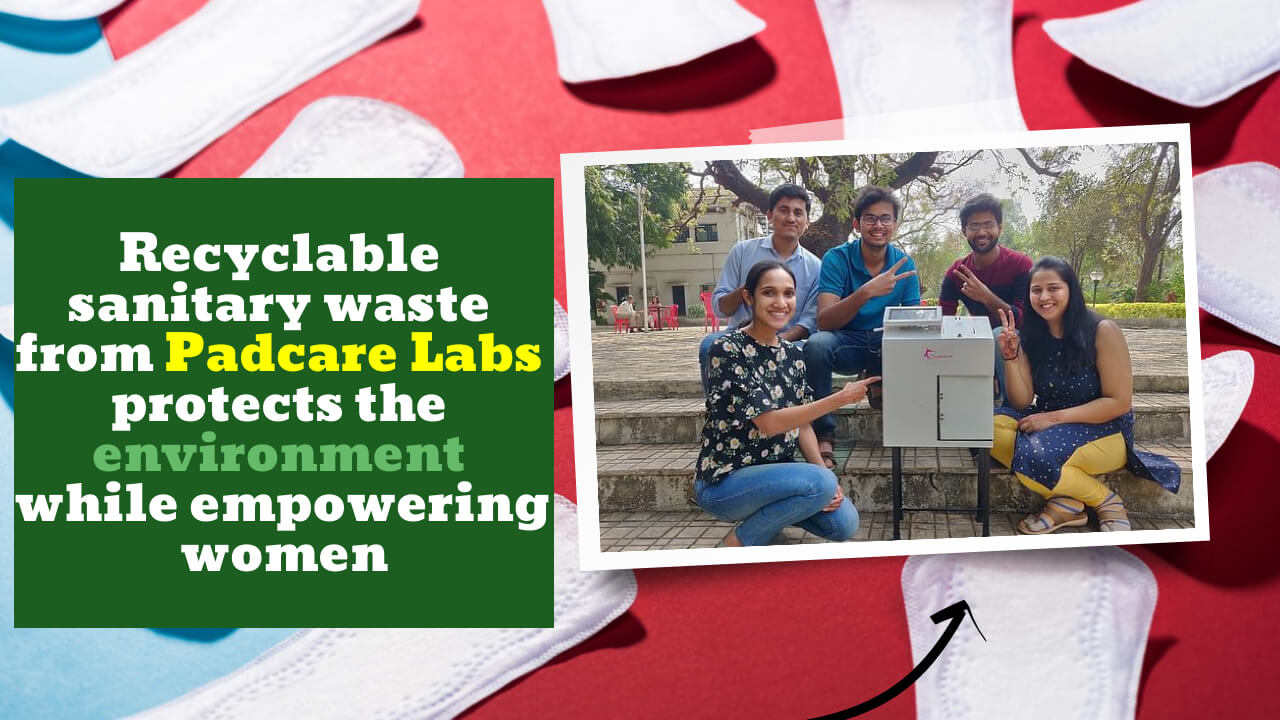 A year after graduating from college, Ajinkya Dhariya founded PadCare Labs. To deactivate the super absorbent polymer in used sanitary napkins and separate the components into recyclable cellulose, a machine is needed that can disinfect and shred the napkins. There are two facets to Dhariya's technology. The front of the bin is an automated sanitary pad disposal system that is installed in the washrooms. A central processing unit is located at the back of the machine that processes the used, unsanitary pads into separated cellulose that can be used for upcycling.
Key Highlight:
Ajinkya Dhariya is the founder of PadCare Labs, a company that turns used sanitary pads into cellulose.
The company has created a machine that can shred used pads and separate the components into recyclable material.
The technology has been praised by the Indian government and is being rolled out across the country.
Around 12.3 billion pads are disposed of every year, which results in an annual menstrual waste of 113,000 tonnes, based on the average use of eight sanitary napkins per monthly cycle, according to the Menstrual Health Alliance of India.
The first disposable pads were made in the 1950s and are still in use today.
Ajinkya Dhariya came across waste-pickers sorting diapers and other noxious sanitary waste like used pads by hand while studying mechanical engineering at SGGS College, Nanded. The first thing I did was to inquire as to where and how the waste was generated. Nearly 336 million Indian females of reproductive age are counted in the 2011 census, most of them are menstruating. According to the Menstrual Health Alliance India data, a national-level inter-agency advocacy group, around 121 million, mainly urban women, are expected to use disposable sanitary pads.
An environmental NGO estimates that around 12.3 billion pads are disposed of every year, which results in an annual menstrual waste of 113,000 tonnes, based on the average use of eight sanitary napkins per monthly cycle. Dhariya had stumbled upon a multi-faceted, Himalayan-sized problem.
Additionally, sanitary napkins, composed of 90 percent plastic, decompose in the range of 500 to 800 years. There are still Southball Pads in use somewhere on the planet because they were the first disposable pads ever made. As she puts it, "This was a trigger point for PadCare Labs.
While still in college in 2018, Dhariya set up the company and developed an innovative machine that could disinfect and shred used sanitary napkins, pass it through a solution to deactivate the super absorbent polymer, and separate the components into recyclable cellulose that could be used in packaging, or to manufacture vases or paver blocks. This machine is capable of dismantling 50 pads in just 20 minutes.
In the end, Dhariya says, "They didn't know what to do." None of his other friends, whom he queried, agreed.
To landfills and water bodies that were unsanitary and unhygienic, while their super-absorbent polymer sucked up vast reserves of the freshwater supply, Dhariya, whose mother worked in the social sector and for women's empowerment, quickly realized the solution. As soon as I saw that, I knew that there was a problem that needed to be fixed," he says.
Both ends of the technology divide into two groups: An automated bin installed in restrooms where used sanitary napkins are disposed of, and a 10-foot central processing unit (Dhariya describes it as "a washing machine with a shredder on top") that turns those unhygienic used pads into separated cellulose for upcycling. The ragpickers will no longer have to sift through soiled sanitary waste, and they will not contribute to the global toxic waste pile.
Dhariya went commercial in March 2020 and has since onboarded 16 corporate clients in Mumbai and Pune, including P&G, JSW, and Raymond, despite a dip during the second Covid wave in April and May 2021. His clients' offices now have nearly 550 bins, each equipped with specially developed in-house liners that can deodorize and partially disinfect pads for 30 days. There are four central processing units currently being manufactured, and he has one at his office in Pune's Pashan along the Mumbai-Pune highway.
Mahindra Group Chairman Anand Mahindra, who tweeted "their work is as important as designing satellites," praised Dhariya's technology and his rapid growth — which prompted him to look for larger office space than his current duplex rowhouse in Pune's Periwinkle Society — surprised his mentors. Maharashtra State Innovation Society (MSIS), the government's nodal agency for implementing its startup policy, has a manager-innovation and startup, Sijo Varghese.
Thank You @BIRAC_2012 for believing in our vision since the inception.

Our journey started with BIRAC SoCH in 2018 then received support under BIG grant, NBEC & LEAP fund. @venture_center @CCAMP_Bangalore @satyadash https://t.co/s64XmHmeUP

— Ajinkya Dhariya (@Ajinkya_Dhariya) November 3, 2021