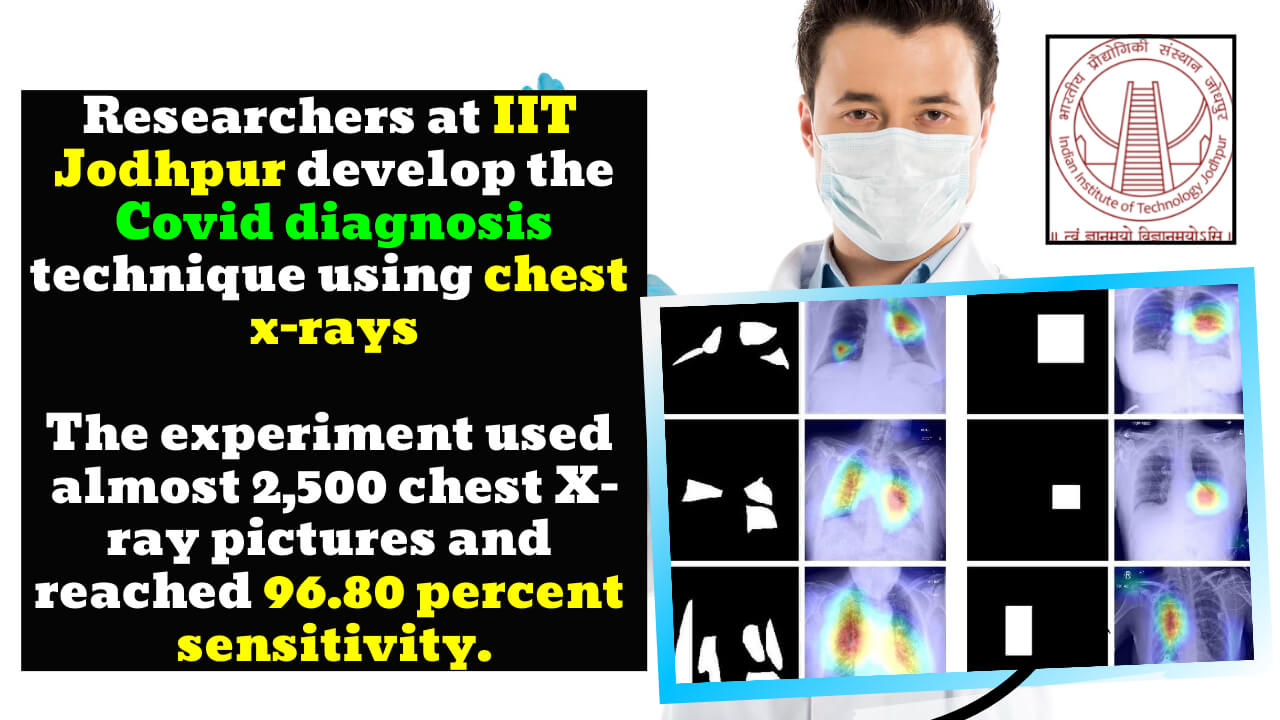 An Artificial Intelligence-based chest X-Ray method has been used to screen for Covid-19A. The new method can readily show the infected area to see. Recently, Scottish scientists also came up with an Al-based X-ray technique that could soon replace the PCR tests that are used now.
Key Highlight:
To screen for Covid-19A, researchers from the Indian Institutes of Technology Jodhpur have developed an Artificial Intelligence (Al)-based chest X-ray approach.
This method uses deep learning to learn the anomalies found in chest X-ray pictures to identify between Covid-affected and non-Covid-affected lungs.
The study used almost 2,500 chest X-ray pictures and reached 96.80% sensitivity.
The Al algorithm predicts whether a person has Covid-19 pneumonia and locates the contaminated areas in the lungs.
An Al-based X-ray approach developed recently by Scottish researchers may replace conventional PCR testing for Covid infection detection.
Researchers at the Indian Institutes of Technology Jodhpur (IIT-J) have developed a way to use Artificial Intelligence (Al) to look for Covid-19A in chest X-Rays. The team came up with a deep learning-based algorithm called COMIT-Net. It learns about the abnormalities in the chest X-Ray images and can tell the difference between a Covid-affected lung and a non-Covid-affected lung based on what it sees.
The experiment was done with more than 2,500 chest X-Ray images. It was able to detect about 96.80 percent of the time. The Al algorithm can tell if a person has Covid-19 pneumonia, but it can also tell which parts of the lungs are infected, making them easier to understand and treat.
The new method can show the infected area in a way that can be seen. It only reads from the lung area. There are many ways to explain the Al solution used in this study, both from an algorithmic and medical point of view. The team has written about the method in a research paper published in the journal Pattern Recognition (Volume 122).
People worldwide have been getting more Covid-19 cases in different waves, and some countries have had problems because they don't have enough testing kits and processing centers in remote areas. This has been the main reason researchers have been looking for new ways to test reliable, easy to use, and faster. Recently, Scottish researchers also came up with an Al-based X-Ray method that could soon be used instead of the current PCR tests for detecting Covid infections.
This is how it works: UWS experts came up with a way to quickly and accurately diagnose Covid-19 in just a few minutes, far faster than the typical PCR test, which takes about two hours. It also had 98% accuracy. In the early stages of Covid-19 infection, the symptoms aren't visible in X-rays, so it's important to note that this new technology can't completely replace PCR tests. Naeem Ramzan from the UWS said this.
PCR tests aren't always available, so they can still play an important role in stopping the spread of viruses, even when they aren't.