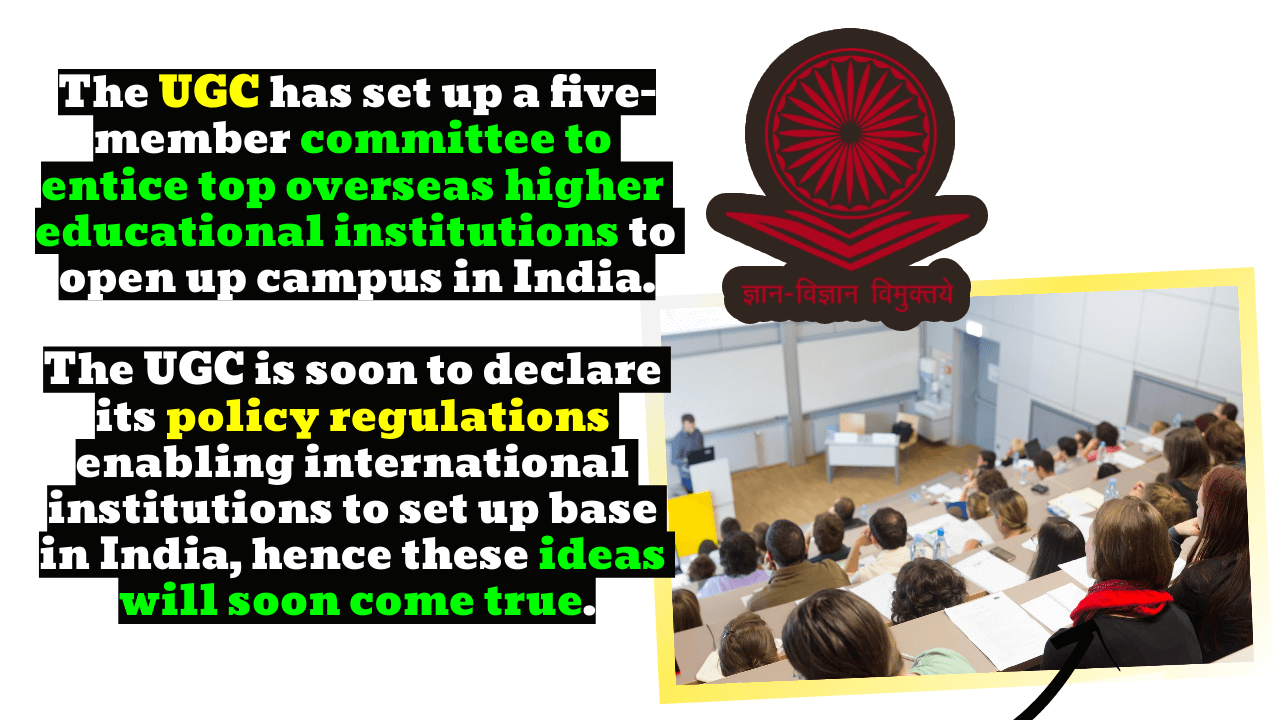 The University Grants Commission (UGC) has appointed a five-member committee to investigate the matter. For these international institutes, the committee has drafted rules and regulations. The initial institutes would focus on science and technology. The government proposed the establishment of Indian institutions overseas and foreign colleges in India as part of the NEP.
Key Highlight:
The University Grants Commission (UGC) has set up a five-member group to lure elite overseas higher education institutes to India.
The committee drafted rules for these overseas institutes.
The first institutes will reportedly be in science and technology, but additional information will be revealed when the UGC announces the findings and the committee's regulations.
The UGC is ready to unveil its policy restrictions on permitting international colleges to set up bases in India.
An NIEPA poll last year suggested that up to eight foreign universities are interested in opening up campuses in India.
The University Grants Commission (UGC) has set up a five-person committee to get top-ranked foreign universities to set up campuses in India. People on the committee have written rules and regulations for these foreign schools. People say the committee was set up on April 11 and will be releasing its report by the end of this month.
As soon as UGC releases its report and the rules it came up with, we'll know more about what the committee came up with. The first institutes to come up will be in science and technology, but more information will be out soon. These measures are part of the National Education Policy (NEP) 2020, which is in place in 2020. Under the NEP, the government wanted to set up Indian colleges in other countries and foreign colleges in India so that more people could go to school.
"A legislative framework will be put in place to make it easier for these universities to get into India," the NEP said. These universities will be given special treatment regarding regulatory, governance, and content rules, just like other autonomous institutions in India, the NEP said.
These ideas are going to come true soon because the UGC will announce its rules soon about foreign colleges setting up shop in India. This means that Indian students will be able to study here and work with Indian institutions on joint courses, student exchange, research, and other things.
NIEPA conducted a survey last year that found eight foreign universities interested in setting up campuses in India. It didn't give out the names of the institutions, but the government-funded body said that these schools were in the top 50 in the Times Higher Education Ranking.
Colleges in India have also been told to build their brands and reach out to the international diaspora to attract international students and build a good name.
Besides that, this strategy also includes the introduction of credit recognition in the case of twinning. It is part of this scheme that students in higher education institutions (HEIs) in India will do part of their education at an international institution.